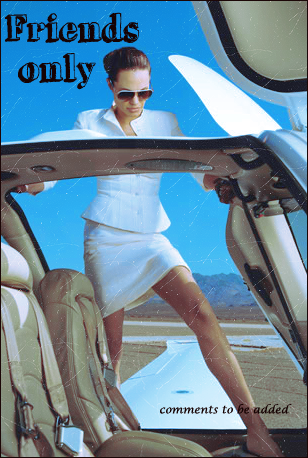 banner credit:
dionisia2005
For full access and to be friends, leave a comment below. ♥
He didn't kill himself. This makes me so fucking happy. ♥
What's your favorite movie quote of all time?
"But, we agreed to get married as soon as you won your first case. Meanwhile,
ten years later
, my niece, the daughter of my sister is getting married. My biological clock is [
stomps foot
] ticking like
this
! And the way this case is going, I ain't never getting married!" ~ Lisa, My Cousin Vinny
Haha, I love that movie. ♥
Current Mood:

amused
Write a poem by putting your itunes/mp3 player/whatever you listen to music on on shuffle and writing down the first line from the first 20 songs that pop up. Use the first line from the 21st song as a title. No cheating!
And Now, the End is Near.
(
Gonna find my baby, gonna hold her tight...
Collapse
)
Need a break from my essay (stolen from Dren). DX


20:12 Salem State has no college essay question. \o/ Time to work on the one for U of I. #


They only like it because it looks like a total prostitute.~


18:03 Just watched Lady Gaga on the MTV Music Awards and I have no idea wtf I was just watching. E____________E; Somehow, that's okay. <3 #


They only like it because it looks like a total prostitute.~
You're all set to come over tomorrow afternoon Kathryn. ♥ We'll pick you up after worrrkkk. 8D
Current Mood:

happy